What's Inside: Learn how to throw a fabulous and fun Winter Solstice celebration in the comfort of your own home with some of my favorite wintery gluten-free recipes, seasonal crafts, and a DIY photo booth!
What is Winter Solstice?
Winter Solstice is one of the oldest celebrated holidays across the globe. It occurs on December 21st each year and marks the first official day of winter. It also happens to be the shortest day of the year, as well as a unique time when the sun sets and rises in the same part of the sky.
In it's simplest form, it's a great day to gather with your loved ones, enjoy each others' company, and celebrate the beginning of a new winter together!
With Winter Solstice fast-approaching, how will you celebrate? Find some inspiration below whether it's a big party, a Zoom party, or just at hom with family and loved ones. I've got some of my favorite healthy recipes featuring one from my friend Justine 0f the Pretty in Pistachio blog, DIY wreath-making that's so much fun, and simple but beautiful traditions to try. 'Tis the season to celebrate no matter how!
How to Host a Winter Solstice Celebration
You know me. I'll seize any opportunity to throw a good party! So, embrace the season and decorate your home with a Christmas tree, pine cones, winter berries, rosemary, and candles. The idea is to keep a bit of the outside — i.e., greenery and light — indoors since historically people were originally stuck inside for months as winter's snow, winds, and freezing temperatures raged.
I feel it's such a lovely and significant way to celebrate a new season, something everyone can relate to. This inspired me to celebrate with friends for a party — the perfect way to have fun over some seasonal food, hot drinks, and an Instagram-worthy DIY project everyone will love.
I quickly threw together these plans and called on some of my girlfriends to attend my Winter Solstice celebration. It was so deliciously fun and the party favor was a beautiful handmade wreath we created together over some laughs, mulled wine, and seasonal tapas on a cold — but sunny — day here in New York City.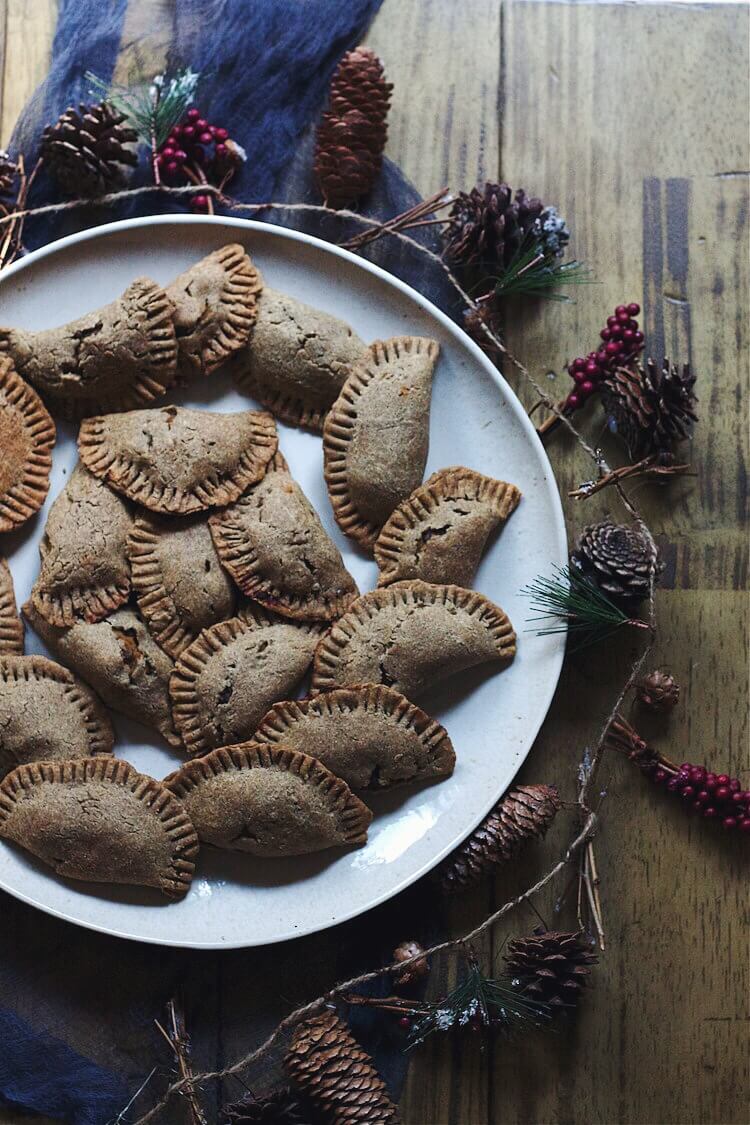 4 Components of a Successful Winter Solstice Celebration
Here are four ideas that are sure to impress your friends and family who are in attendance for your own warm and cozy Winter Solstice Celebration!
1. Candles
The shortest day of the year you say? We'll need some light! And back in the day, that meant burning candles. Whip out your votives and scatter them throughout your tables for a candlelit atmosphere and ode to lighting up your winter with warmth and love with those you care about most.
2. A Hot Drink
Traditionally, a "Solstice Wassail" would be served, which was basically a hot ale with cinnamon, cloves, and other seasonal spices. If you're drinking alcohol, this is a great option or my preferred drink of choice is a mulled wine. If you're skipping alcohol, try a hot apple cider with the same spices and get yourself warm!
Check out some of my favorite mulled wine recipes below:
3. Seasonal Small Plates
Technically, the plates don't need to be small. But, my goodness, do I love a spread of tapas with appetizer plates and mini silverware. This is also great for mingling and letting your guests make their own plates.
Invite your friends to bring a dish keeping the theme in mind and use a public spreadsheet like a Google document or an old pen-and-paper sign-up sheet to keep track of it all. Make whatever you can ahead of time so you can spend time decorating and lighting all those candles!
One of the best parts of a small plate spread is that you get to sample lots of delectables all at one. Here are some of my all-time favorite tapas that are perfect for your Winter Solstice party:
An assortment of you favorite mixed nuts and cheeses
4. Crafts and Festivities
Bring your guests together with a fun activity like decorating a tree, baking cookies, or create your own wreaths! Here are the ingredients for the perfect Winter Solstice wreath:
Pine needles
Cedar
Eucalyptus
Red winter berries
Boxwood
Wire hangers for assembly
Everyone got to take their's home as a party favor and hang it on their doors to commemorate the season!
Since most of us live in apartments here in NYC, we made our wreaths on the smaller side, which turned out beautifully. Some of my favorite how-to blogs for a winter-themed DIY holiday wreath are this rosemary Wreath DIY via The Pretty Blog and this pinecone Wreath DIY via the Do it Yourself Divas.
If There Wasn't a Photo Booth at Your Winter Solstice Party, It Didn't Happen!
Photo booths were likely not a part of any traditional winter solstice celebration, but historical accuracy be damned, it will be a part of mine!
After a daring pursuit of photo booth backdrops, I found beautiful pine cone garland at Michael's that did the trick. I simply hung it on removable wall hooks, which worked out perfectly. I then re-purposed the garland for my Christmas tree!
Oh, and yes, those are our wreaths on our heads. They double as beautiful and effective greenery crowns (the cold-weather cousins of flower crowns).
Wishing you a warm, cozy, merry, and bright Winter Solstice!
More Winter Recipes To Try
If you enjoyed my recipe lineup for this Winter Solstice party, then you're sure to love these cold-weather recipes: