What's Inside: If making Dim Sum at home sounds intimidating, it shouldn't! These Paleo Cabbage Rolls are simple, delicious, and easy to make in the comfort of your own kitchen.
Paleo Cabbage Rolls Are Perfect for the Lunar New Year
Paleo Cabbage Rolls ARE HERE just in time to celebrate The Lunar New Year — Dim Sum style, baby.
Living in Queens, NYC, my hubby, friends, and I always would go get some soup dumplings around this time of year, and I've been missing it since eating clean. Well, as it turns out, steamed cabbage leaves are basically nature's gluten-free dumpling wrappers … so that's GOOD NEWS.
Just getting started on AIP (or need a refresh)?
Here's an easy 1-week meal plan
using some of my most popular AIP recipes to make it
stress-free and delicious
.
The even better news? THEY'RE SO EASY AND TASTY. On top of being low-carb, Whole30, and AIP-friendly, this stuffed cabbage rolls recipe will be your new favorite. While you can stuff them with anything your heart desires, I do ask that you give this stuffing a try because it's mega flavorful and delicious.
How To Cook Cabbage Leaves
Flash boiling a hear of cabbage (yes the whole head) and then peeling back each leaf is a breeze. This vegetable is sturdy and holds A TON of goodies inside.
I'm so excited to do more with them, but this simple boiled and then steamed recipe is such a fresh and nutrient-dense way to get those veggies and protein into your system.
Time-saving Reader Tip: If you'd rather save time on the rolls, you can try this as a deconstructed bowl with cooked cabbage and the meat laid over top for the same delicious flavors!
How To Make the Paleo Filling
I mixed 1/2 ground turkey and 1/2 ground pork with scallions, carrots, cilantro. While this is scrumptious all on its own, this is Dim Sum, and so that means you need a sauce to dunk them in. This sauce is made healthy with coconut aminos and lots of fresh flavors. Learn how to make it below!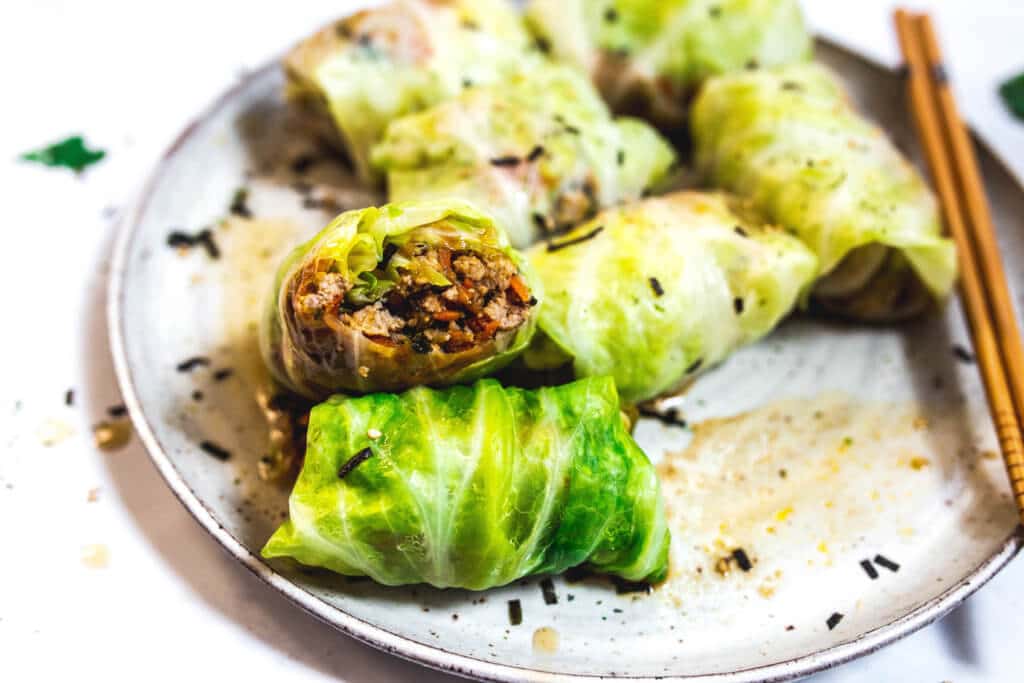 Need more grain-free swap ideas? THERE ARE SO MANY VEGGIES OUT THERE THAT DO THE JOB! Check out my post of the best grain alternatives.
How to Make the BEST Dim Sum Dipping Sauce
Coconut aminos, toasted sesame oil (skip for AIP), and honey (skip for Whole30) with lots of lime juice is a tangy and rich dip with all the UMAMI.
And just to make it fancy, I tossed some seaweed flakes mixed with sesame on top.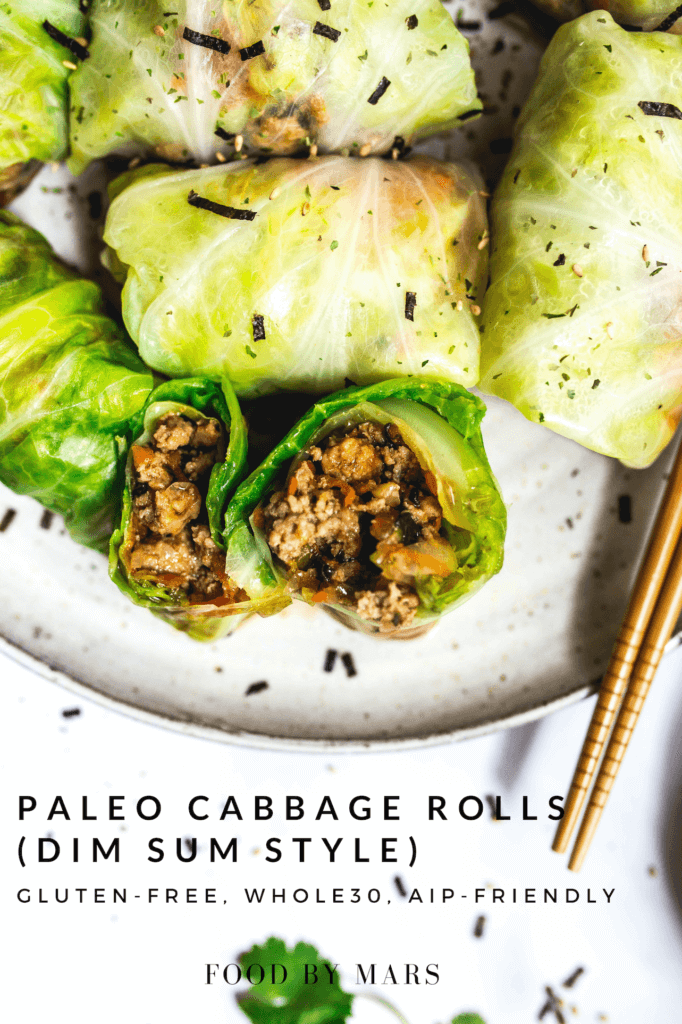 How To Make the Best Paleo Stuffed Cabbage Rolls
Dim Sum Paleo Cabbage Rolls
A Paleo stuffed cabbage rolls recipe that uses steamed cabbage leaves = nature's gluten-free dumplings! Dip these in my tasty soy-free sauce for all the UMAMI power — Dim Sum style.
Ingredients 
For cabbage rolls:
1

Tbsp

ghee

(sub olive oil or coconut oil for AIP)

1

shallot

thinly sliced

1

lb.

ground turkey

chicken or pork (I did 1/2 turkey and 1/2 pork since it's the year of the pig!)

Sea salt

to taste

2

tsp

garlic powder

2-3

tsp

ginger powder

1

carrot

shredded

1/2

Tbsp

fish sauce

Juice of 1 lime

2

Tbsp

coconut aminos

2

scallions

finely chopped

1/4

cup

cilantro

roughly chopped

1

head of cabbage

water for boiling
For dipping sauce:
3

Tbsp

coconut aminos

1

Tbsp

toasted sesame oil

(sub olive oil or coconut oil for AIP)

1-2

Tbsp

fresh lime juice

1-2

tsp

honey (I used Mike's Hot Honey which has a bit of chili in it for heat!)

(skip for Whole30, plain honey for AIP)
Instructions
Bring a large, heavy-bottomed pot with water to boil (enough water to cover the cabbage). Use a pot that can accommodate a steam basket on the top. Cover and let boil while you make the filling.

Melt ghee over medium heat in a skillet on the stove. Add sliced shallots and cook, stirring occasionally for just a few minutes until soft. 

Add ground meat and break up with a wooden spoon. Season with salt, ginger, and garlic powders. Cook meat until no pink remains and the liquid is starting to absorb, approx. 5-6 minutes.

Add shredded carrot, fish sauce, and coconut aminos. Stir into the meat mixture and continue to cook until the sauces absorb for a minute or so.

Mix in the freshly chopped scallions and cilantro and remove from heat. Let rest and come to room temperature way from the stove.

Meanwhile, the water should be boiling. Prep an ice bath in a large bowl with ice and cold water next to the stove. 

Using tongs, lower the whole head of cabbage into the boiling water and let it boil for approx. 1-1.5 minutes. Remove the head of cabbage carefully with a large spoon and tongs (it will be heavier now, carrying water). Keep the water on a low boil – you'll need it again.

Add the cabbage to a large bowl, and carefully peel back the soft leaves, placing in the ice bath to stop cooking.

Repeat this process until you have at least 8 good leaves to use for rolling. Dry each blanched leaf well with a paper towel after the ice bath and lay the cabbage leaves in front of you with the core facing you.

Prep a steam basket next to you with one additional cabbage leaf lining the bottom of it. You'll add the rolls to the steam basket one by one.

Prep your work station and add approx. 3 Tbsp of your meat mixture to the bottom of the cabbage leaf towards the core, fold the sides in, and then fold the bottom away from you to the top of the leaf. Keep the edge tucked underneath.

Add each stuffed cabbage roll to your steam basket with the folded edge on the bottom. Return the steam basket to the top of the pot with boiling water. Cover and let cook for 15 minutes on a low boil to steam.

Remove steam basket and turn off heat. Using tongs, plate each cabbage roll with dipping sauce on the side, serve! This also stores well in the fridge.
For the dipping sauce:
Combine all ingredients to a small bowl and whisk.
More Veggie Appetizers To Try
If you liked my Dim Sum Paleo Cabbage Rolls, then you'll love these other veggie-loaded appetizer recipes:
Trying to get back to eating healthy again (+ for good)?
Check out the Nourishing You Membership
and get weekly done-for-you Paleo/AIP Meal Prep Plans with Grocery Lists delivered to you + Nutrition coaching and community
to make this lifestyle easy