What's Inside: This Green Shakshuka recipe is the perfect marriage of savory green veggies and rich poached eggs that makes the perfect meal for Easter or Mother's Day brunch, lunch, or even a light dinner!
What Is Shakshuka?
Traditional Tunisian shakshuka is comprised of eggs that are gently poached in a simmering, savory concoction of tomatoes, bell peppers, onions, garlic, and some warm spices. And it is tasty! But all those nightshades (tomatoes, peppers, spices) sometimes don't make me feel the best so we're going green for this recipe!
Instead of tomatoes, I pair power greens like spinach and arugula with my favorite homemade chimichurri sauce to achieve the perfect balance of salty, sweet, green goodness! The parsley, capers, red wine vinegar, oregano, and garlic in the chimichurri bring the greens and poached eggs together in the most delicious way.
Serve with some gluten-free bread or as is, and you're set!
Key Ingredients
Extra virgin olive oil, or another light-tasting oil with a high smoke point like avocado
Power greens, like frozen or fresh chopped organic spinach and chopped arugula. You can substitute any greens you like. Kale, chard, or shaved Brussel sprouts would be great!
Eggs, the fresher the better! (omit for AIP and swap for prosciutto, bacon, or smoked wild-caught salmon)
Salt and pepper to taste (omit pepper if AIP)
How To Make Green Shakshuka
Make Your Greens: Pre-heat your medium cast iron skillet over medium-low, and add olive oil. Once shiny, add the frozen spinach (not thawed) to the pan, followed by the arugula. Stir for 3-4 minutes, and add more arugula if needed to cover the pan. Add the chimichurri sauce and mix to coat. Alopow to simmer for a couple more minutes until spinach is no longer frozen.
Add the Eggs: Create four wells that are evenly spaced apart and crack your eggs directly into them. Cover the pan and let it cook for 5-7 minutes, or longer depending on how you like your eggs. Season with salt and pepper.
Serve hot, and enjoy!
How To Make AIP Green Shakshuka
You can easily make this nutritious, veggie-packed dish AIP-friendly by substituting prosciutto, bacon, or smoked wild-caught salmon for the eggs and omitting the black pepper.
What To Serve with Shakshuka
Traditionally, serving shakshuka with some crusty bread for dipping is the way to go! This is delicious on its own, with other brunchy foods like a delicious waffle board, or try my gluten-free Buckwheat Bread! It also pairs well with some coffee or a hot caffeine-free beverage for breakfast or your holiday brunch!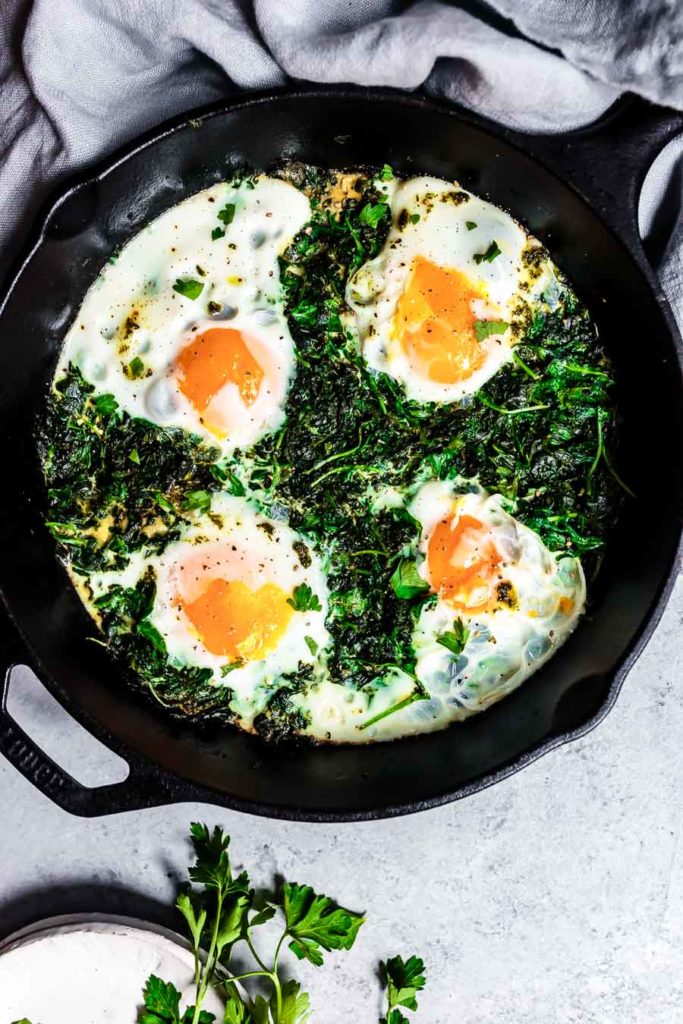 Variations
Incorporate more green veggies! Kale, Brussel sprouts, green cabbage, chard, green leafy lettuce, and cilantro would work beautifully in this shakshuka recipe.
Spice it up! If you love and tolerate more spicy flavors, go for it. You could add some cayenne pepper, red pepper flakes, chili powder, or even some diced jalapeños.
Add some fresh squeezed lemon or lime juice to brighten this dish up!
Storage, Reheating, and Freezing Instructions
Store cooled leftovers in airtight containers for up to 4 days in the refrigerator.
Freeze the cooled savory greens in an airtight, freezer-safe plastic bag or container, and store in your freezer for up to 3 months. Do not freeze the poached eggs. Just add them to the greens after you have reheated them on the stove to simmering.
Reheat leftovers on the stovetop over medium-low heat until warmed through or in the microwave for 2-3 minutes. (Be careful to not overcook the poached eggs.)
More Recipes To Try
If you enjoyed this Green Shakshuka recipe, then you'll love these other brunch dishes:
Green Shakshuka (No Tomato, Paleo, Whole30)
This Green Shakshuka recipe is the perfect marriage of savory green veggies and rich poached eggs that makes the perfect meal for brunch, lunch, or even dinner! It's Paleo, Whole30 and has some ideas for AIP (egg-free) variations.
Equipment
Cast Iron Skillet (or another oven-safe skillet)
Ingredients 
1

tbsp

extra virgin olive oil

8

oz.

frozen chopped organic spinach

2-3

handfuls

fresh arugula

chopped

3

tbsp

chimichurri sauce

4

large eggs

salt

to taste

pepper

to taste
Instructions
Heat a 10-inch skillet (I used my cast iron) over medium-low.

Add olive oil and let heat up for a minute.

Add frozen spinach directly to the pant and stir around while you chop the arugula, add that in next and continue to stir as the spinach comes back to life. Let it mix together for 3-4 mins. Add more arugula if you're not covering the pan.

Next, add the chimichurri sauce and continue to mix the greens to coat in the sauce. Let cook for another couple of minutes, there should be no more frozen spinach at this point.

Create 4 wells evenly spaced, and crack your eggs into them, cover your pan and let cook for 5-7 minutes depending on how well-cooked you like your eggs. Keep an eye on them, checking every so often to keep track.

Season over top with salt, pepper, and herbs to garnish.

Serve hot with a heaping serving of greens and eggs to top or distribute evenly into containers to store for up to 4 days.
Notes
MAKE IT AIP: Swap eggs for prosciutto, bacon, or smoked wild
salmon and omit pepper.