What's Inside: This Creamy Mushroom Soup with Bacon is dairy-free, made with simple ingredients, and comes together in 30 minutes. Perfect for busy weeknights and meal-prepping!
Homemade Cream of Mushroom Soup
Is there anything more comforting than a big bowl of hot food, especially when it's a homemade gluten-free soup? This Creamy Mushroom Soup recipe is my take on classic cream of mushroom soup, made with whole ingredients and topped with crispy bacon bits. It's perfect for those chilly months leading up to spring and calls for a lot of AIP-friendly ingredients you likely have on hand.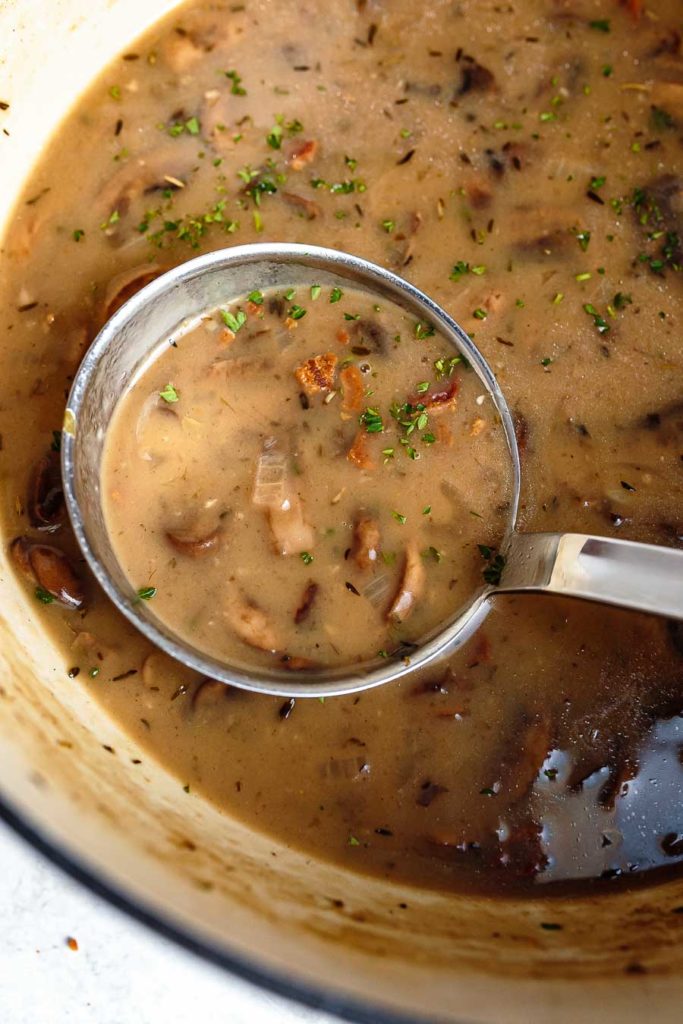 Check out this post to learn how to incorporate more bone broth into your diet!
Can You Really Make Dairy-Free Cream of Mushroom Soup?
Many people who follow Paleo, dairy-free, or Whole30 diets can all agree on one texture they miss — creaminess. This is especially true when it comes to soups.
So many gluten-free soups and Paleo soup recipes are also dairy-free soups, and they often turn out like thicker purees more than the soups we're actually craving. I knew there had to be a way to achieve a level of creaminess without the use of heavy cream or milk. Through a lot of trial and error, I discovered the secret ingredient for this dairy-free cream of mushroom soup. (And no, it's not coconut milk.)
OK, that is one of the ingredients for my dairy-free cream sauce, but it's not the secret ingredient. The key to achieving velvety smooth creaminess in this dairy-free soup recipe is one white sweet potato.
How To Make a Dairy-Free Cream Sauce with Sweet Potatoes
For this Creamy Mushroom Soup recipe, the white sweet potato perfectly compliments the soup because both are a little nutty and very earthy. The starches and complex carbohydrates in the sweet potato expand when added to the hot soup, resulting in a velvety smooth dairy-free cream of mushroom soup that will quickly make you forget about the canned stuff from your childhood.
Make the cream-free cream sauce by blending the diced, peeled, and boiled sweet potato with the water and coconut milk until smooth. That's it! And no, it won't taste like coconut!
Key Ingredients
For this dairy-free soup, you'll need pastured bacon, a yellow onion, a handful of garlic cloves, 1.5 pounds of white mushrooms like baby Bellas or cremini, dried thyme, dried parsley, dried rosemary, arrowroot powder, balsamic vinegar, bone broth (preferably chicken), and sea salt.
How To Make This Recipe
First, you need to cook your bacon until crispy, leaving some grease in the pot.
Now to cook your veggies. In the same pot, sauté the onions, then add the garlic followed by the mushrooms and dried herbs. Cook for just 5 minutes to soften the mushrooms and build flavor.
Deglaze with the balsamic vinegar, and sprinkle the arrowroot flour over the veggies to create a roux. Stir to coat.
Whisk in the broth, season with salt, bring to a boil, and simmer for 15-20 minutes until thick.
Reduce the heat under your soup to low and slowly stir in the dairy-free cream sauce until incorporated.
Now for finishing touches. Ladle into bowls, garnish with bacon pieces and parsley, and enjoy!
Can't have coconut? No problem, just use a bit less water to make the cream sauce. The sweet potato is thick enough.
Serving Variations
In addition to the bacon crumbles and fresh parsley, you could garnish this soup with a sprinkle of the dried herbs that were used in the soup, freshly cracked pepper (unless AIP), and you can even serve over a veggie rice!
For the dip-lovers, you could even serve this Creamy Mushroom Soup with grain-free bread like my Paleo soda bread biscuits and my cloud bread. Or, grab some store-bought Paleo-friendly crackers.
Storage, Freezing, and Reheating Instructions
Store cooled, leftover soup in an airtight container in your fridge for up to 4 days. Store the bacon bits separately to keep them crispy.
Freeze cooled, leftover soup in a freezer-safe, airtight container or plastic bag for up to 3 months. Make sure to label so you know what you're thawing at a later date! This dairy-free cream of mushroom soup is perfect for meal-prepping or making ahead. (Freeze flat to optimize space in your freezer.)
Reheat thawed and chilled soup in the microwave for 3-4 minutes, stirring halfway through, if you're in a rush. But if you have the time, or if you're reserving for dinner later, warm in a pot on the stove over medium-low until bubbling and warmed through. This will ensure even heating throughout the soup. Thin out with water or broth, if needed.
More Soups To Try
Looking for more Paleo soup recipes? I've got you covered!
Creamy Mushroom Soup with Bacon (Paleo, AIP, Whole30)
This Creamy Mushroom Soup with Bacon is dairy-free, made with simple ingredients, and comes together in 30 minutes.
Ingredients 
Soup
12

oz

pastured bacon

chopped into bits

1

yellow onion

minced

4

cloves

garlic

minced

1.5

pounds

mushrooms

sliced (cremini, baby bellas, etc.)

1

tsp

dried thyme

1

tsp

dried parsley

1

tsp

dried rosemary

2

tbsp

arrowroot flour

3

tbsp

balsamic vinegar

4

cups

bone broth or broth

1/4

tso

sea salt

Fresh chopped parsley for garnish

optional
Dairy-Free Cream Sauce (yields approx. 1.5 cups)
1

white sweet potato

peeled and chopped

3-4

cups

filtered water, divided

1/4

cup

unsweetened full-fat coconut milk
Instructions
Heat a large stockpot or Dutch oven over medium heat, add chopped bacon and saute until crispy (about 3-5 mins.). Transfer cooked bacon bits to a plate and set aside, leaving 1-2 Tbsp of bacon grease in the pot (you can strain and save the rest for later in the fridge).

Add and sauté onion for 2 to 3 minutes until softened. Cook garlic until fragrant, about 1 minute.

Add mushrooms, thyme, parsley, and rosemary, cooking for 5 minutes. Pour in the balsamic vinegar and mix, let it cook for 2 more minutes or so.

Sprinkle mushrooms with flour, mix well and cook for 2 minutes. Add broth, mix again and bring to a boil. Reduce heat to low-medium heat, season with salt.

Cover and allow to simmer for 15 minutes, while occasionally stirring, until thickened.

Meanwhile, make the cream sauce by boiling sweet potatoes in a small saucepan with enough water to cover for 10-12 mins. Once sweet potatoes are fork-tender, strain and add to a blender. Add 1 cup water and coconut milk and blend until smooth, adding more water if needed to loosen. You want it to be a thick creamy consistency, set aside.

Returning to the soup, reduce heat to low, and stir in cream sauce. Allow to gently simmer (do not boil). Adjust salt and seasonings to your taste.

Mix in the bacon bits (or you can sprinkle them on top of the bowls you serve in to keep it crispy) and chopped fresh parsley. Serve and enjoy!