What's Inside: A 3-ingredient low-carb and dairy-free Cloud Bread (or "oopsie bread") recipe friendly for a Paleo diet.
How to make Dairy-free Paleo Cloud Bread
I'm pretty jazzed about this 'bread'! I caught wind of it on Instagram one day… "What is this 'cloud bread' (AKA 'oopsie bread') and it has no carbs?", I thought! I quickly researched what it was made of and to no surprise, it's an egg base (eggs can do anything apparently), cream of tartar or baking powder, and cream cheese. Beat, fluff, bake – voila! Well, I was more than intrigued seeing as I haven't had bread in my apartment in months and simply don't eat it enough to always buy it. The game was afoot… one issue, cream cheese is a no-no for me. I saw some recipes swap out thick greek yogurt, and usually, I'll sub in coconut cream when that happens so the executive decision was made that I'd use my coconut cream instead! WORKED LIKE A CHARM– Paleo Cloud Bread (because it's dairy-free, ya'll!)
Wash your whisks after beating the yolk so it doesn't mess with getting the whites fluffy…
Beat until you have stiff peaks like these!
This cloud bread is nice and fluffy, can be savory or sweet depending on what you'd like to season it with and can be stored in the fridge or even your freezer so you can make it in a batch and have slices on hand. I've used it for #avotoast… with my favorite, almond butter and cinnamon, I even tried toasting it (LIGHTLY) and it held up and just heated up a bit. It's my new secret weapon. Plus they're so cute and make great little pita breads or thin buns to hold a veggie burger. It takes a little bit of practice, preparation and patience but it really comes together quite nicely and I'm loving it.
Fold, baby… FOLD!
Now drop it like it's hot… seriously, hurry.
No blood sugar spike, no drama… well except for when I take pictures of it like this…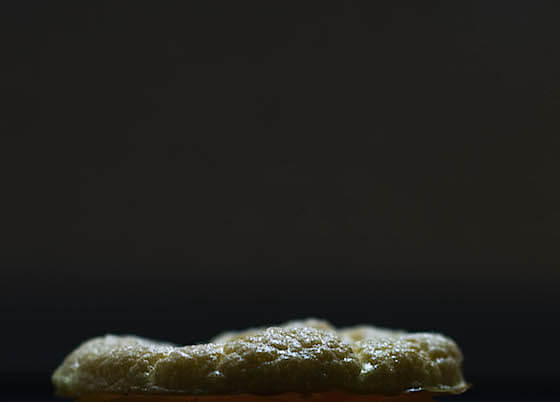 Also, I expected my husband to ask me what the hell I just fed him when I made him a little sandwich with it… and he was like "mmm, good", and so that test passed with flying colors as well. SCORE.
If you make it, let me know what you think! XO
---
Dairy-free Paleo Cloud Bread Recipe
Easy Cloud Bread (NO Cream cheese, lactose-free, low-carb, Keto, Paleo)
This oopsie bread is perfect for dairy-free peeps! No cream cheese at all, instead I'm using coconut cream for the same fluffy turnout. These are perfect to make a low carb sandwich, mini pizza, or burger bun!
Ingredients 
3

eggs

3

tbsp

coconut cream

spoon from refrigerated can of full-fat coconut milk

1/2

tsp

baking powder

optional toppings: sea salt

black pepper and rosemary or whatever seasonings you like!
Instructions
Firstly, prep everything. Once you start going, you'll need to move quickly so have everything handy. Pre-heat the oven to 325f degrees and arrange a rack in the middle. Line a baking sheet with parchment paper and set aside. Grab your tools: hand mixer (you can use a stand mixer, but I find it to be better for whipping egg whites so I can stay in control), all ingredients, any additional seasonings, two mixing bowls (the larger one should be used for egg whites), a large spoon to scoop and drop the bread with.

Using a full-fat can of coconut milk that has been refrigerated overnight or several hours, spoon out the top coconut cream and add to the smaller bowl.

Separate eggs into the two bowls, adding the yolk to the bowl with the cream and be careful to not let the yolk get into the whites in the larger bowl.

Using a hand mixer, beat the yolk and cream together first until nice and creamy, make sure there are no clumps of coconut left.

Wash your whisks well and dry them.

Add the baking powder into the whites and start beating on medium with the hand mixer for a few minutes, moving around and you'll see it get firmer. Keep going for a few minutes, you want to get it as thick as you can with stiff peaks. The thicker the better. Just don't over-do it. Once you can stop and dip the whisks in leaving peaks behind, you're ready.

Quickly and carefully add the yolk-coconut mixture into the whites, folding with a spatula, careful not to deflate too much. Keep going until everything is well combined but still fluffy.

Now you can grab your spoon and start dropping your batter down on the baking sheet. Keep going as quickly and carefully as you can, or it will start to melt. They should look pillow-y.

Steadily add your baking sheet to the middle rack in the oven and bake for approx. 20-25 minutes. You should be able to scoop them up with your spatula and see a fluffy top and a flat bottom. Store in the fridge for about a week or freeze.
Nutrition
---
More Paleo, Dairy-free "bread" ideas!