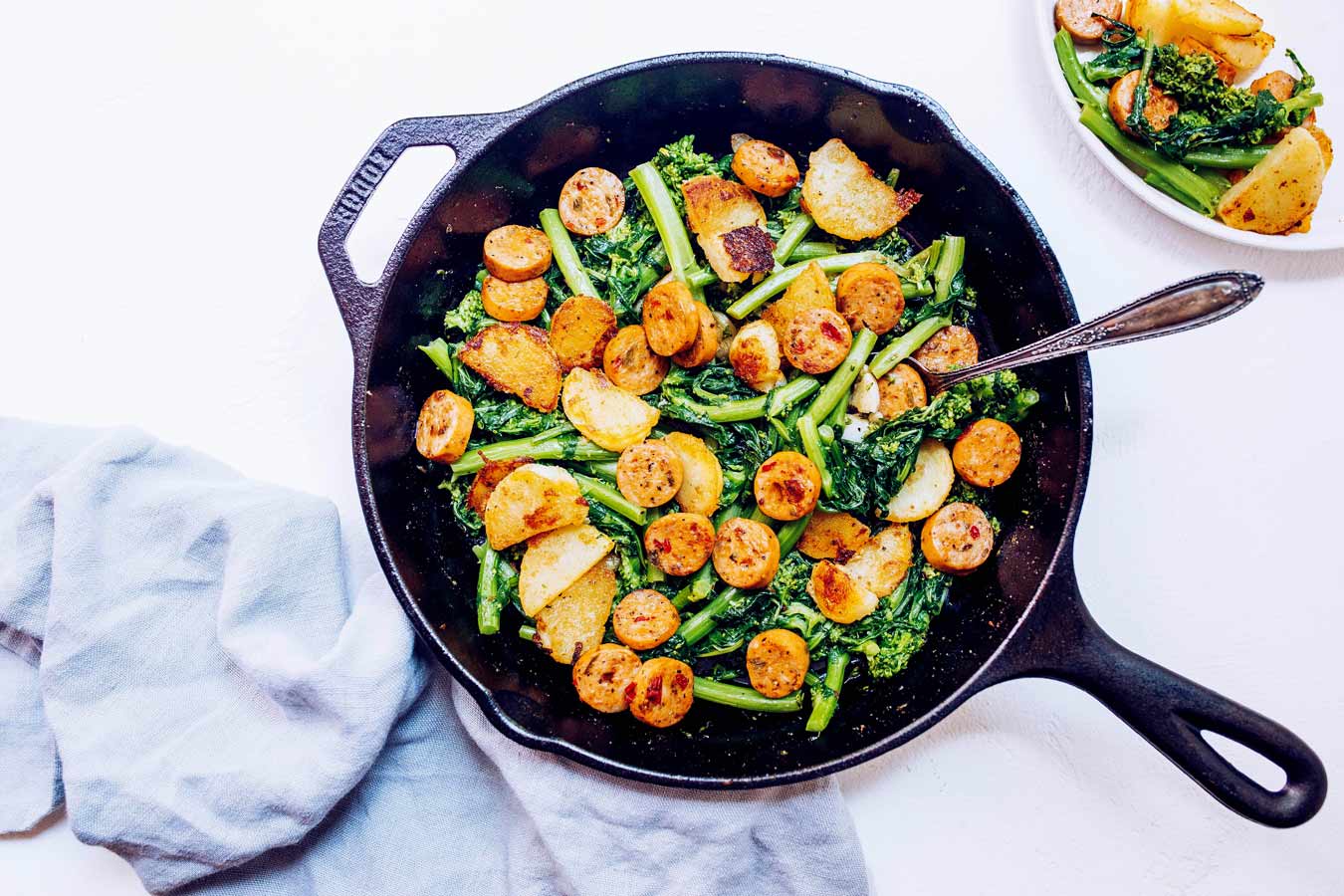 Repeat after me: NO MORE BITTER BROCCOLI RABE (RAPINI). I have a full-proof way to make sure it is tender and tasty, so go ahead and file this under: "how to cook broccoli rabe less bitter" which is quite a popular search term on the Googs, turns out… everyone loves it but only when it's done properly. Enter this tasty dish which is going to move to the top of your (almost) one-skillet meals list, in fact, you might want to just plan for a double batch ahead of time so you can eat it every single day this week. Couple it with crispy potatoes and chicken sausage… winner, winner, chicken dinner.
You're welcome.
Follow this recipe for delicious rapini mixed with crispy potatoes and juicy chicken sausage. This one has it all, you guys. Oh and hey, want to make your own chicken sausage from scratch? It's easier than you think. Here's an awesome tutorial!

Chicken Sausage & Broccoli Rabe (Rapini) Skillet Meal (Paleo, Whole30)
Chicken Sausage & Broccoli Rabe Skillet
Tender, non-bitter broccoli rabe meets flavorful chicken sausage and crispy potatoes for a heavenly one-skillet meal!
(Paleo, Whole30)
Ingredients 
2

Yukon Gold potatoes

unpeeled (or sweet potatoes if you don't eat regular)

1

bunch broccoli rabe

about 1½ pounds

1

Tbsp

Kosher salt

3

Tbsp

ghee

2

Tbsp

extra virgin olive oil

4

large cloves garlic

peeled, bruised, but whole

2

links Italian Chicken Sausage

I use Bilinski's Mild Italian
Instructions
COMBINE potatoes with enough cold water to cover & bring to a boil in a pot

COOK over medium heat until the potatoes are tender, about 15-20 minutes, allow potatoes to cool

PEEL potato skin when cool enough to handle

CUT once lengthwise, then into half-moons, set aside

DETACH florets from the main stem of broccoli rabe with leaves. Using a small, sharp knife, peel/shave the skin from the thicker lower stalks of the broccoli rabe, cut the tip of the bottom off, & cut crosswise (approx. 2-inch lengths)

BRING large pot w/ enough water for greens to boil

ADD peeled stems along with the salt and cook for 1 minute ADD florets & leaves next, & cook them together with stems until tender but not mushy, 3-4 mins more. Crisp stalks = bitter, make sure its tender with a fork

DRAIN greens & add to ice bath (fill a large bowl half-way with cold water/ice), to stop cooking

ADD sliced chicken sausage to a large nonstick or cast iron skillet over medium heat until cooked, flipping for approx. 8-10mins, remove chicken & set aside

REDUCE heat to low, warm ghee, & add whole garlic

SAUTÉ over medium for approx. 4mins until soft, set aside

RAISE heat to medium-high, add cooked potatoes in a single layer & season w/ pinch sea salt

SAUTÉ until they are golden & crispy, approx. 12 mins, set aside

WARM 2 tablespoons olive oil over medium-low, return drained b.rabe & garlic to pan. Sauté until greens are coated approx.3mins

RETURN potatoes & sausage to skillet, toss all together, taste/season & serve!
More Whole30 Meals >>
Paleo Paella (Whole30, low-carb)
Paleo Moussaka (Dairy-free, Whole30)
Paleo Cabbage Rolls & Dim Sum Style (AIP-friendly, Whole30)