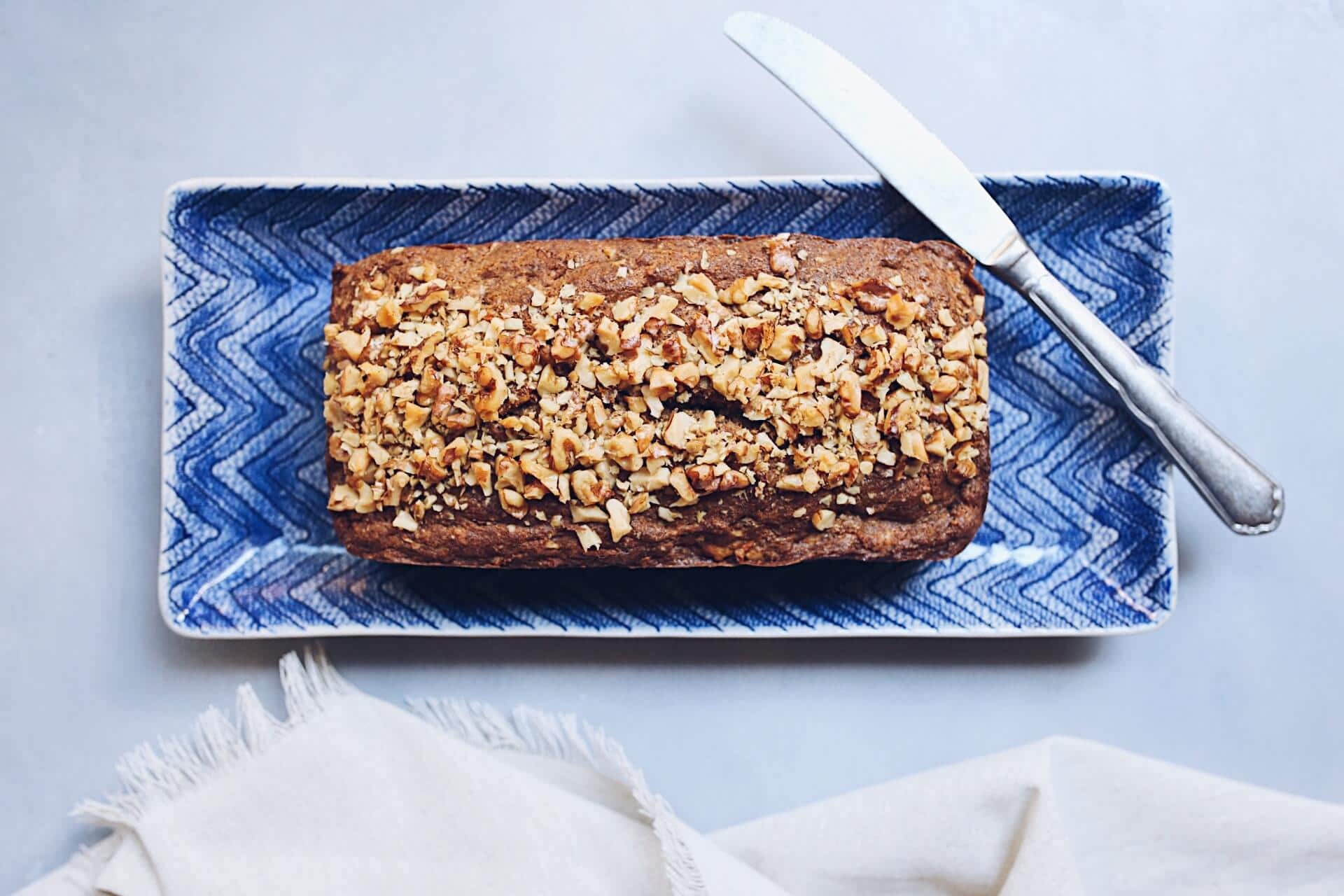 This Christmas, I got everything I wanted and so much more. I was with my family and got to cook plenty of goodies. The gifts under the tree were just a bonus… I hope your holiday was fabulous! This cake came out of it… I went on a bit of a Bon Appetit rampage with paleo-fying some delish cookies and this carrot-walnut loaf cake into my own version. It was such a hit, I couldn't keep it from you… so I give you this Paleo Carrot Walnut Loaf Cake to enjoy!
I put my guests to work, grating carrots, and measuring dry ingredients – I had a little factory going. It's always fun to bake with the ones you love and then enjoy the result. Whipping coconut cream can be done while the cake is resting. Simply grab a refrigerated can of coconut cream (one of the best brands here) and add a little drop of vanilla extract, and WHIP it in a cold bowl until thick. You can also store it like that in the fridge and it stays really well.
You will love this moist and fluffy crumb, the coconut oil and vanilla give it this magical taste… while the spices will warm you up and fill you with that winter warmth in your tummy. The chopped walnuts add such a great crunch on top.
I'm gearing up for a Whole 30 in January, so I figured I'd use up my remaining flour in a REAL DELISH way before I part ways with desserts for quite some time. Though as my husband said, "at least we're eating veggies too!".
Paleo Carrot Walnut Cake (gluten-free, refined sugar-free)
Spiced and a little sweet, this fluffy carrot cake is the perfect winter treat. Top it off with a little whipped cream for the grand finale! 
Ingredients 
3/4

cup

melted coconut oil

1¼

cup

paleo all-purpose flour

nut or seed version below

1½

tsp

baking powder

1½

tsp

ground cinnamon

1/2

tsp

ground cardamom

1/2

tsp

ground ginger

freshly grated nutmeg

pinch

kosher salt

½

cup

walnuts

coarsely chopped (plus more for garnish)

3

large eggs

1/2

cup

coconut or maple sugar

2

tsp

vanilla extract

8

ounces

carrots

coarsely grated (approx. 2 cups)
Instructions
Pre-heat oven to 350f degrees, line and lightly grease an 8-inch loaf pan with coconut oil.

In one bowl, add dry ingredients (flour, baking powder, spices, salt, and chopped walnuts) and mix.

In an electric mixer bowl, whisk the eggs and coconut sugar on high for a few minutes until thick and foamy. Lastly, add the vanilla and coconut oil, and switch to the paddle attachment if you have it.

Add the dry ingredients slowly with the mixer still going to make the batter.

Lastly, mix in the shredded carrots.

To the lined loaf pan, pour in the batter and swipe the spatula across the top so it's even and flat. Add a bit of chopped walnuts down the middle.

Bake for 65-70 minutes until the center is cooked (check with a toothpick). Transfer to a wire rack to dry by pulling the sides of the parchment paper up and placing it gently.

Serve with some whipped coconut cream!