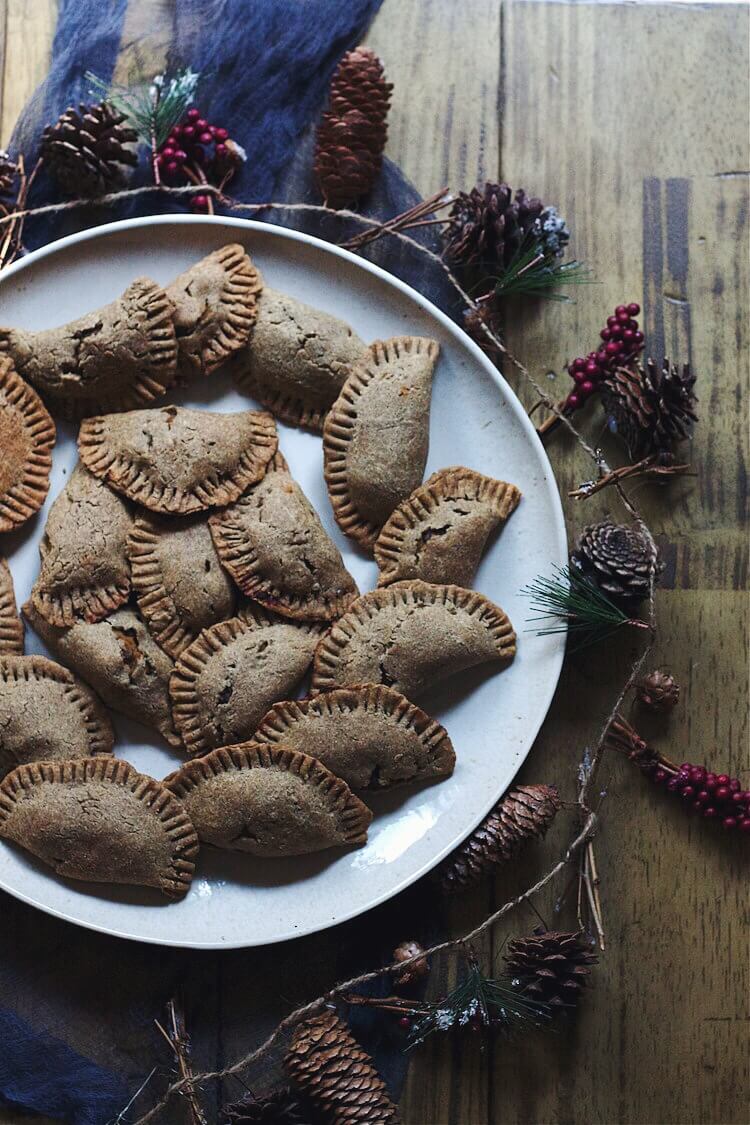 These delicious empanadas were a HIT at my Winter Solstice Celebration (full post here). Sweet from the acorn squash, rich from the black beans and that rustic, hearty taste from the hand-held buckwheat crust is perfect for a spread. Don't let all the directions scare you, I'm just very thorough especially when gluten-free pie crust is involved. I made this the night before my event and kept in a large Tupperware, you can easily re-heat this by storing it in the oven before guests arrive on the lowest setting (so you're not cooking it again).
Ingredients:
Gluten-free | Vegan
makes 18 empanadas
Crust:
1/2 cup buckwheat flour
1/2 cup gluten-free oat flour
1 cup garbanzo/chickpea flour
1/4 cup non-GMO cornstarch
1/4 cup potato starch
1 tsp xanthan gum
1/4 tsp pepper
1/8 tsp salt
2/3 cup cold butter, diced up
5+ tsp ice cold water
Filling:
1 small/medium acorn squash
1 can black beans (pre-cooked)
1 small yellow onion, chopped
1 garlic clove, minced
1 tbsp chopped cilantro
1 small green pepper, finely chopped
1 tsp olive oil
1.5 tsp dried oregano
Dash salt
Dash pepper
1 tbsp rice wine vinegar or white vinegar
Water
Directions:
Crust:
Prepare parchment paper with a little flour dusted on top for when you roll your dough.
Combine all dry pie crust ingredients in a bowl and mix together.
Add the cold, diced butter to the flour and with a fork, work the butter into the dry mix (get those biceps going!). Do this for a few minutes until you no longer see the chunks of butter and you're starting to see crumbles forming in the mix.
Have your ice cold water handy, and spoon in the water as you work it into the flour with the fork. Keep adding the water until you see the dough is forming, if you see a gumminess form… time to stop.
Form the dough into a ball and place onto the parchment paper.
Place saran wrap on the top of the dough ball, and lightly roll the dough out.
Separate the dough into 2 parts, cover both separately with saran wrap, and place in the fridge. Let it sit for at least 30 minutes, preferably an hour (adding it to the freezer for 5 more minutes is helpful too). Then get working on the filling below.
Filling:
Pre-heat oven to 350f degrees. Lightly drizzle olive oil on a baking sheet.
Slice open the acorn squash length-wise, scoop out and discard the seeds and place the flat sides down on the oiled baking sheet.
Roast for 35-40 minutes.
Meanwhile, prep the beans. Rinse beans from the can in a colander until clean.
Place beans in a small saucepan and pour enough water just to cover the beans (should be near 1/2 cup)
Pour the oil, vinegar, oregano, salt and pepper and stir. Let sit while you make the Sazon (or if familiar with Goya products… Recaito!)
In a food processor, mix the chopped onion, garlic, cilantro, chopped pepper- add salt and pepper to taste. Mix until well combined. If it comes out watery, try to strain out excess liquid so your sauce isn't too thin.
Add the mixture to the beans, stir and bring to a boil.
Once boiling, reduce heat to medium and cover slightly. Check on it in 10 minutes, you can turn off the heat once a thick sauce starts to form. Set aside to cool.
When the squash is finished (should be soft, nice and caramelized on the edges. Scoop out the squash and let cool in a bowl.
Combine beans and squash in a bowl with a spoon and let rest (don't put a hot filling in your empanadas or your dough will become a mess!)
Final Steps!
Prep for the final steps with 2 baking sheets, line them with parchment paper and pre-heat the oven to 350f degrees.
Once the dough is ready, remove only 1 pat of dough and leave the other in the refrigerator. Unwrap the first pat back onto your parchment paper, and keep one layer of saran wrap on top of the dough.
Roll out the dough (about 1/8inch thick). Using a biscuit cutter, cookie cutter, or even the mouth of a jar/glass, make circle cuts into the dough (approx. 3 inches in diameter).
Assemble them directly on your baking sheets, don't be scared adding your filling, it can hold more than you think. Use your fingers to press down around the corners and close and then use a fork to really seal the deal.
Once you're done with that first batch, you can put this tray in the oven.
Remove the 2nd pat of dough from the fridge and repeat these steps for your 2nd batch.
Hand pies should bake for 25-30 minutes.
Move hand pies to a cooling rack for a few minutes and serve!
———————————————–

Hope you enjoy!
Would love to have your feedback below and remember to follow me on
Instagram, Bloglovin', Twitter, Pinterest and Facebook for the latest and greatest.
**Alison
———————————————–