A few weeks ago, I collaborated with Kite Hill in hosting a Paleo Waffle Brunch at my apartment for my fabulous foodie friends. We had amazing sponsors, a makeshift boomerang booth that I fashioned out of an old tripod and my iPhone which was on 20% battery the whole time (LOL) and of course… a beautiful waffle spread filled with sweet and savory toppings so everyone could make their perfect plate. I also learned a thing or two about throwing a successful brunch, and am sharing my tips!
But first, as someone who loves food but also eats in a specific way with sensitivities/allergies, etc. – it's been a while since I was able to throw a shindig like this. And I so missed it! Entertaining for me brings everything I love together… I get to be at home, cooking (we all know how much I love that) but I get to have my friends over and EAT. And even better, everyone knew they could eat my food because I take a lot of extra care with knowing what people can/can't have as well as trying to not only put delicious flavors together but to make them nutritionally-sound too. Knowing I was partnering with Kite Hill (almond-based products), I purposely didn't make almond flour waffles for example, how much almonds can one have in a brunch after all?! So I whipped out my go-to waffle recipe that my nut-allergic, vegan, and paleo friends alike could all enjoy. It's made with Tigernut & Cassava flours.
Needless to say, it was a total hit! Even my guests who have no problem with their own gluten-filled waffle recipes were chomping at the bit to get their hands on this recipe! I was so excited to see this, guys. And it just proves that not only can you have eating restrictions and still enjoy fun, delicious food – but you can control it best when you host and EVERYONE will love it and will be able to enjoy it! So I hope this post gives you the confidence and tools to try it out on your own because no one should have to sit in the corner with a packed lunch at a party or have to (even worse), not go to an event they really want to just because of it! I say no more.
The Recipes
*PRO TIPS WHEN SERVING WAFFLES IN BULK:
Make the batter the night before, but allow time to have it "thaw out", the coconut milk in this will seize up and solidify. You can add room temp/warm water and mix it to help it along.
Heat your stove to 200f degrees and leave baking sheets with the racks or parchment paper in there to keep warm.
Start making your waffles at least an hour beforehand (depending on how many waffles you need to make), and keep them warm on the sheets in the oven until you're ready to serve.
Don't pigeonhole yourself with just syrup! My waffle platter had both a savory and sweet side (as you'll see in the menu).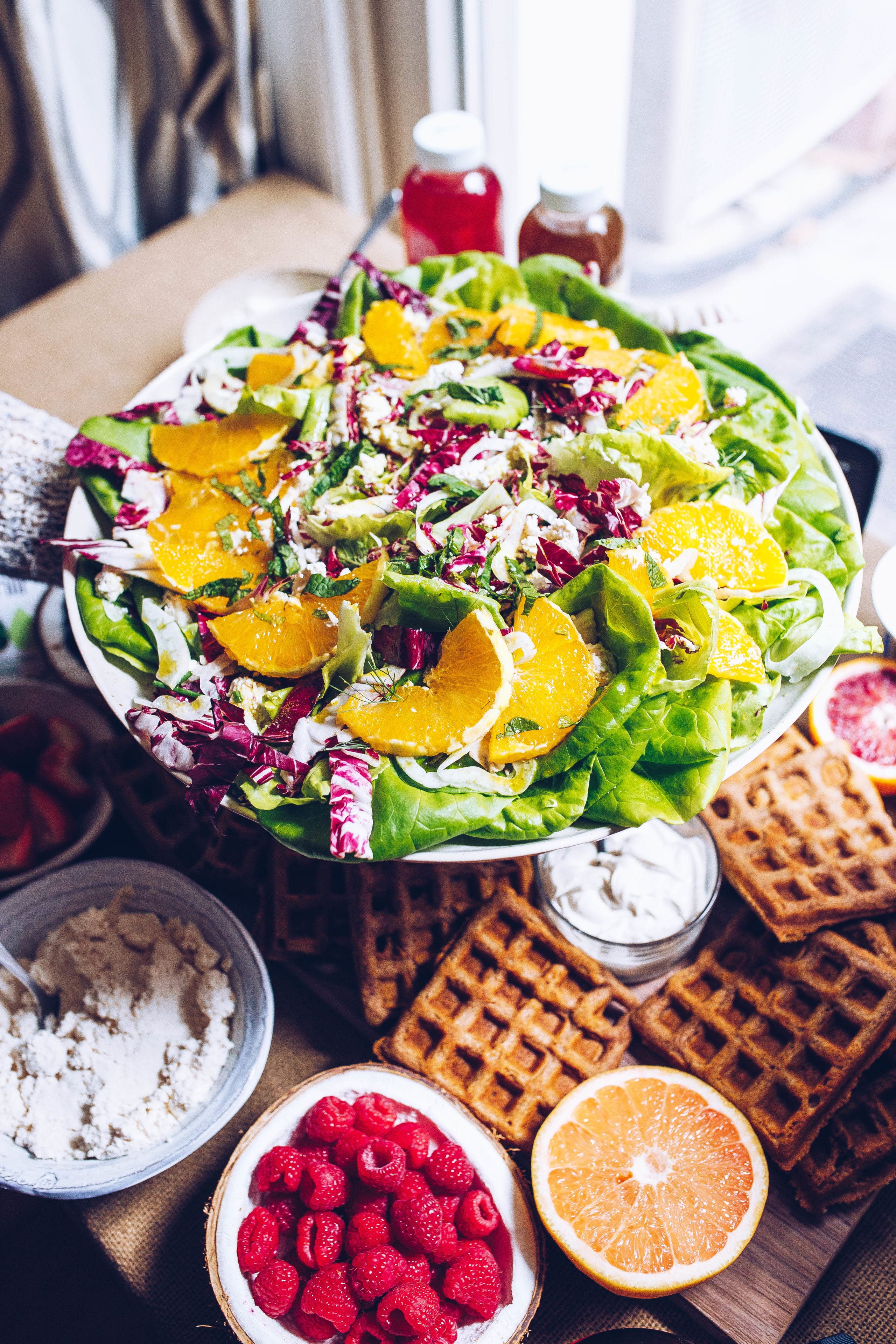 Citrus, Fennel, & Mint Radicchio Salad
Citrus & Mint Radicchio Salad
Bright, wintery ingredients come together over butter lettuce in a delicious way!
Ingredients 
1

head

butter lettuce

1

head

radicchio (small)

1

bulb

fennel, sliced finely

1

naval orange

1

bunch

fresh mint leaves, sliced into ribbons

2-3

Tbsp

avocado oil or olive oil

1

lemon, juiced

1

tsp

raw honey

Kite Hill Ricotta Cheese
Instructions
Clean the lettuce and radicchio well, slice the radicchio into small pieces and rip the top parts of the lettuce for the salad. Arrange in your serving bowl. Slice the bulb of fennel into thin slices and scatter around as well, reserve some of the top herbs for garnish on top of your salad.

Peel and slice your orange into half-moons and arrange all along your salad. Disburse the mint ribbons all around as well. Crumble the Kite Hill Ricotta cheese all around the top.

Make the dressing by combining the oil, honey, and lemon juice. Dress your salad and serve!
*PRO TIP: Get all the parts of the salad ready a few hours ahead of time and store it in the fridge. Dress the salad just before serving and voila!

The Menu
The Dessert & Goodie Bag (Sponsored!)
Chocolate Avocado Pudding>> (with Kite Hill Vanilla Yogurt & Simple Mills Chocolate Chip Cookies crumbled on top)
A big thank you to our sponsors for this event!!
The Boomerang Booth
Using a tripod with an iPhone attachment (or just get this all-in-one), with a fun backdrop or plain wall is an easy way to liven up any party and get a fun ice-breaker going! We had a blast using produce and products as props. Check out my IG post to see some!
More Tips!
Set the table the night before or first thing in the morning, get that out of the way. Once your guests arrive, it'll be too late to worry about that!
Place your serveware (large spoons, forks, etc.) out on the table early too or guests will be scrambling and asking you for it.
Put out a pitcher of water early so your guests don't get dehydrated!
For coffee/tea, try these insulated warmers. It kept our chai and coffee hot ALL DAY LONG! It was literally magic.
I loved doing shooters as dessert, easy to store in the fridge on a tray and serve. Prepping these the night before is easy and everyone loves them!
Create a hashtag that you include in your invite so when guests take photos, you can have all of them in one place (in the hashtag)! Creating shared iPhone libraries is a great way to get all your photos quickly too.
Get some paper eco-friendly cups, and place a Sharpie next to them so people can write their names. No need for name tags and no need to waste more cups!
When guests asks what they can bring… FLOWERS! Unless it's a potluck 🙂 But get some free and lovely decor while you can.