What's Inside: Potatoes are great, but you know what could be as good or even better? Cauliflower. This easy mashed cauliflower recipe is vegan, low carb, keto-friendly, and an AIP-approved mashed potato alternative. Can be made with fresh or frozen cauliflower too
Yes, Mashed Cauliflower Is as Good or Better than Mashed Potatoes
Now, I hold no grudges against mashed potatoes. But with all the stretchy pants, sweet tooth indulgences, and excess eating many of us are guilty of during the holidays, the less blood sugar spikes, the better.
Just keeping it real, folks. When there's an entire Thanksgiving or Holiday meal ahead of me, and I don't feel like wasting my allotted sugar or stomach space on heavy, dairy-laden mashed potatoes.
Not only is this creamy mashed cauliflower recipe EASIER and FASTER to make as their spud sisters, but they're EQUALLY DELICIOUS. Yes, I said it. While they're not as fluffy as potatoes due to the lack of starch, they are still super comforting and are the perfect pillow for gravy (which is really all you need out of a good mash anyway).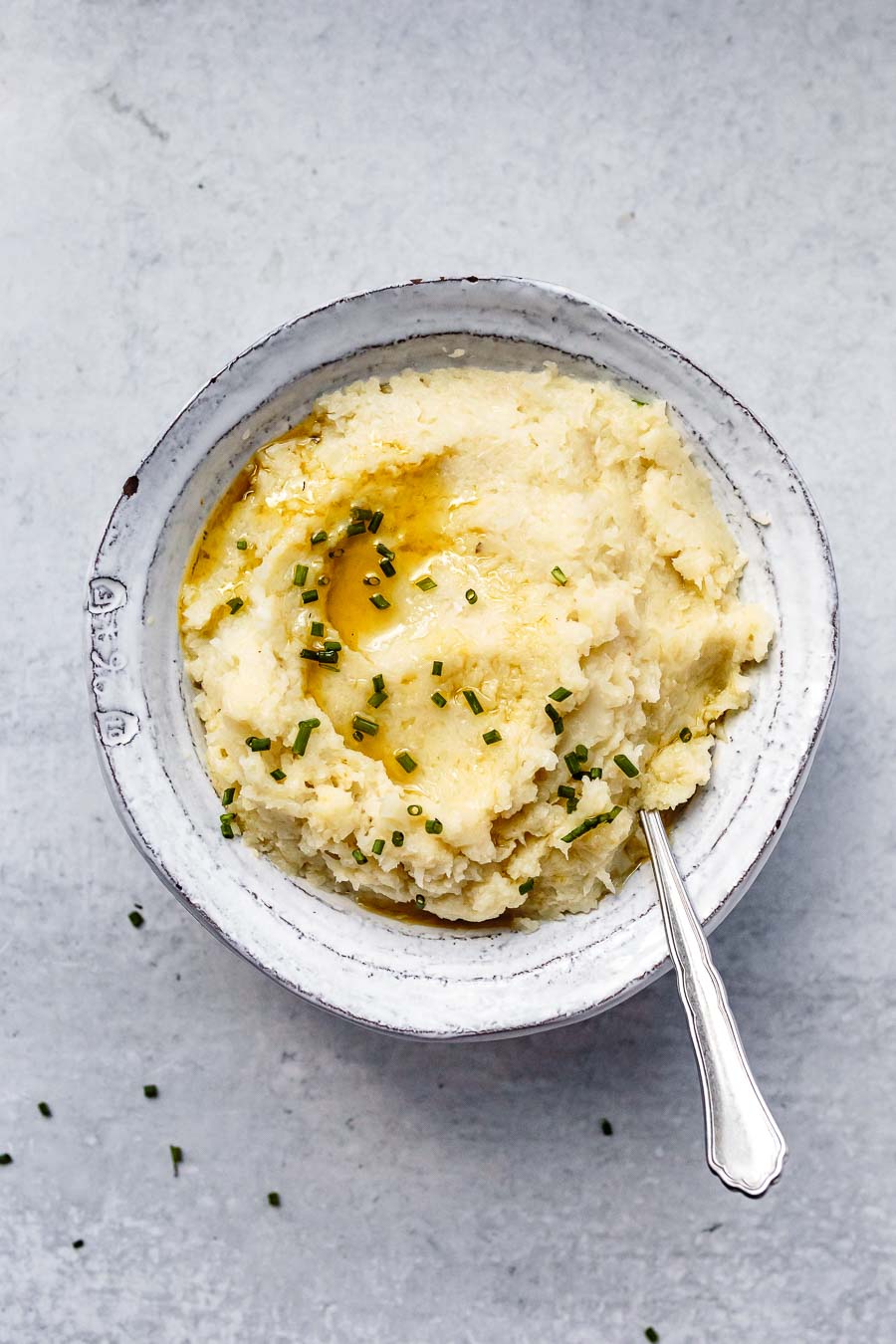 How To Make the Best Creamy Mashed Cauliflower
Where traditional mashed potatoes can get weighed down with butter, sour cream, and cheese, the beauty of this vegan mashed cauliflower is that it is simple and delicious.
You definitely have to be a fan of cauliflower to enjoy this easy side dish. (If you're not, we may not be able to be friends … ) The light, nutty flavor of the cauliflower really shines through in this recipe, and it's enhanced with the salt, pep, and fresh chives. Sautéed or roasted garlic would also be divine here. Get creative!
You can use fresh or frozen cauliflower in this recipe, there's no difference nutritionally (and sometimes the frozen version can be even fresher), so go with whatever is most attainable and convenient for you. While using cauliflower florets are preferred, you can also use cauliflower rice (just add more, of course).
Serve Mashed Cauliflower at Your Thanksgiving or Holiday Meal
This mashed cauliflower pairs perfectly with all the fixings for a full-blown Thanksgiving dinner, like roasted turkey, cranberry sauce, green veggies, and gravy (check out this match made in heaven below!). And trust me, your friends and family will appreciate that this side dish leaves plenty of room in their bellies for the rest of your holiday spread!
You can find my recipe for mashed cauliflower below! And make sure to check out my roundup of healthy Thanksgiving basics to ensure you stay on track this holiday season and impress your guests with a delicious, clean, homemade meal.
More Healthy Veggie Side Dishes
If you like this healthy homemade mashed cauliflower, make sure to save these healthy side dishes and Thanksgiving recipes when planning to host your own holiday feast:
Enjoy!
Watch How To Make Creamy Dairy-free Mashed Cauliflower
Creamy Dairy-free Mashed Cauliflower
Mashed potatoes are great, but you know what's as good or even better? Creamy mashed cauliflower! This easy mashed cauliflower recipe is vegan, low carb, keto-friendly and an AIP-approved mashed potato alternative. Can be made with fresh or frozen cauliflower too
Ingredients 
2

heads

cauliflower, chopped into florets

(or approx. 20-24 oz. florets, fresh or frozen)

2

cups

water

2

Tbsp

extra virgin olive oil

1

Bunch of fresh chives for topping

pinch of sea salt and pepper (omit for AIP) to taste
Instructions
Bring water to boil and place florets in a steam rack on top, covering until tender and you can easily pierce with a fork (but they're not falling apart), approx. 7-8 minutes or so. Alternatively, you may steam in the microwave for 3-4 minutes (do in 2-3 batches in a bow.) If using cauliflower rice, a steam basket won't work. You can try sauteéing in 1 Tbsp of extra-virgin olive oil in a non-stick or cast iron skillet just until soft and you'll need the amount of ounces as noted above.

Once ready, remove the florets and add to a food processor with extra-virgin olive oil, sea salt and pepper to taste. (you may need to do this in batches if you have a small food processor). You may alternativeely mash using a hand masher, an emulsion blender in a largee mixing bowl or pot if you don't have a food processor.

Transfer the mashed cauliflower to a serving dish and top with more oil or butter/ghee and fresh chives and sea salt if needed. Hot tip: check out my herbed mushroom gravy as a perfect topping.
Trying to get back to eating healthy again (+ for good)?
Check out the Nourishing You Membership
and get weekly done-for-you Paleo/AIP Meal Prep Plans with Grocery Lists delivered to you + Nutrition coaching and community
to make this lifestyle easy